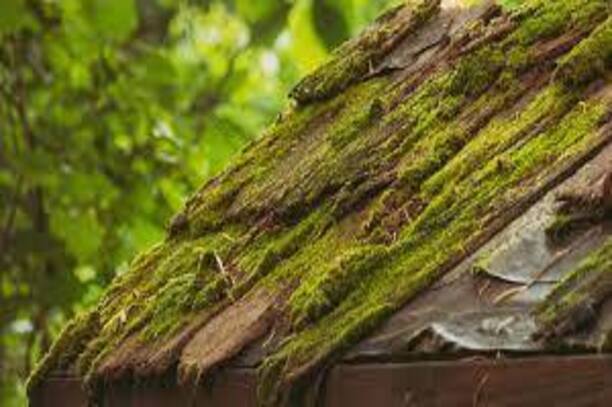 Is Moss Bad For Your Roof?
There's much to debate when it comes to discussing the pros and cons of letting moss grow freely on your roof. Some underestimate the impact of moss growth on their homes, while others worry it'll cause irreparable damage. While it's widely speculated, we're here to debunk any myths around roof moss, once and for all. 
First off, what is moss? 
Mosses are a collection of tiny non-vascular flowerless plants that thrive in damp or shady conditions. Unbeknownst to many, there are seven classes and 12,000 known varieties of moss worldwide. It's non-vascular, which means that moss doesn't have roots like other plants do, and instead absorbs water from its appendages or spores. Because it doesn't have the root structure to grow upward, it's a plant that grows low and spreads wide on flat surfaces.
When moss spreads, it can envelop the surface and create a somewhat rustic look for cottages or cabins, which is why some people choose to let moss grow on their roofs. However, the consequences of allowing moss to grow wild are often not worth it.
If you're still thinking, "Should I remove moss from my roof?" Consider this…
Your home may be more at risk of moss germination if you live in a damp climate, like in Vancouver, or if your home is situated under trees. All it takes is for one spore to land and inhabit your roof for it to develop into moss and spread like wildfire. When it does, it can come with a slew of issues for your home. 
Mold
When moss grows abundantly, it becomes a heavy blanket on top of your roof that retains water and moisture and leads to rot, bacteria, and mold growth. While not a notable concern for your health, this growth can shorten your roof's lifespan significantly. Roof mold also is an invitation to rodents and critters who feed off the mold and roofing materials. 
Holes
Moss can also creep underneath your shingles, tiles, and slates, uprooting them from your roof and causing immense damage. This uprooting can lead to holes, leakage, and your roof's structural degeneration. Even worse, when you do remove the moss from your roof, tiles will then fall back awkwardly after losing the moss structure that once held it up. 
Things to consider before removing moss from your roof
Now that you know the variety of issues that can arise when moss starts to flourish on your roof, how do you deal with it? Depending on the scale of the problem, you can try to tackle it on your own, or you might require professional moss removal. First, consider these items before jumping onto that ladder.
Chemical consequences
Trying to remove moss from your roof with household cleaning chemicals can cause more harm than benefits. Some cleaning products have properties that result in unfavourable outcomes like lead flashing when it interacts with roofing materials, which can end up staining both the lead and different parts of the roof. Instead, professional roof cleaners have exclusive specialist products that are better suited for roof cleaning. 
Structural damage
Most people make the mistake of walking on top of their roof to clean or undertake any damages. However, roofs can't carry the weight of a human being and can lead to broken tiles or worse—injury. Unless you're a trained professional, it's best to attempt the removal from the safety of your ladder. 
How to treat moss 
Online you can find many suggestions on how to treat moss on your own. While it may sound easy, some of these suggestions are ill-advised and are merely temporary solutions that can lead to a bigger problem.
Despite what those articles say, do not use a pressure washer on your roof! Pressure washing is a surefire way to damage your roof's tiles and shingles. As well, it's costly and only removes the surface layer of moss, leaving behind spores that will ultimately grow back. 
Other recommendations include hand-scraping moss off your roof, yet hand-scraping is only a preliminary method in the many steps involved in removing moss. Similar to the pressure washer, hand-scraping will only remove the visible layer of moss and fails to get rid of spores and clusters that can spread and stimulate regrowth. 
Bleach can also kill moss, but if not used properly, it can lead to discoloration and ruin vegetation on and around your house. It's important to be cautious when using bleach, especially if you're not familiar with the solution as it can irritate the eyes and/or burn your skin. It's often best to leave the chemicals to moss removal professionals like Clean Break Home Services, who use a 12.5% industrial standard bleach solution and know-how to create a safe mixture that offers maximum effectiveness. 
Moss control powder is also a highly recommended tool to combat moss because it's properties are not harmful to your roof structure. However, one downside is that it can negatively harm any wildlife and plants that surround your home. As well, moss control powder is most effective when applied during the wet season, and standing on a wet roof is incredibly dangerous and can lead to serious injuries. 
You might've heard this one from your aunt or neighbour… laundry detergent! Word-of-mouth recommendations often refer to laundry detergent as a secret hack to killing moss with household products. While laundry detergent may be able to rid you of pesky moss, it is really harmful to your roof because it includes degreasers that weaken the tar in your shingles, thus decreasing its lifespan. 
After reviewing these details, you might be ready to fight off moss alone or are confident you need to search for professional moss removal in Vancouver. Either way, now you know, removing moss is no simple task. There are some tricky aspects to consider, and it might take more time and effort than you want to put in. 
How to prevent moss from growing on your roof
Prevention is always the best weapon, but unfortunately, hindsight is 20/20. If the moss on your roof has already grown into a small lawn, these tips are still helpful in ensuring you prevent any regrowth.
If there are trees that overlook your house, consider trimming the branches that hover over your roof to prevent moss from growing.

Make sure you do routine roof cleaning. To maintain your overall roof health, clean your roof 1-2 times a year. It will ensure your roof is clear of debris leaves and sticks. Clean Break Home Services offers complete professional roof cleaning in Vancouver to help lengthen the lifespan of your roof.

Clean your gutters. Debris can clog your gutters and begin to mold. This moist environment can further speed up the development of moss as well. 

Use zinc strips to prevent moss by nailing it along the peak of your roof. After a downfall of rain, the zinc gets released onto your roof and inhibits moss from growing.
So, is moss bad for your roof? 
Yes. 100% all moss, even if it's a small patch or the width of a lawn, it can create irreparable damage to your roof if left untreated. This type of destruction can cost you hundreds or even thousands of dollars in roof replacement. 
But don't fret, you may not need to get an entire new roof just yet.
Get a free assessment to see if your roof simply needs a good cleaning. If you're lucky, you might've detected your moss growth early and have time to tackle the issue before it worsens.
Before you hit the point of no return, consider Clean Break Home Services, we offer moss removal and roof cleaning in Vancouver, along with other professional cleaning services for your home's exterior.
---
Related Posts